Advanced Remote Receiver is a Windows tool that works in conjunction with Advanced Presentation Remote and/or Advanced Windows Remote, allowing your android device to act as a remote control for your computer.
The concept is shown in the following figure: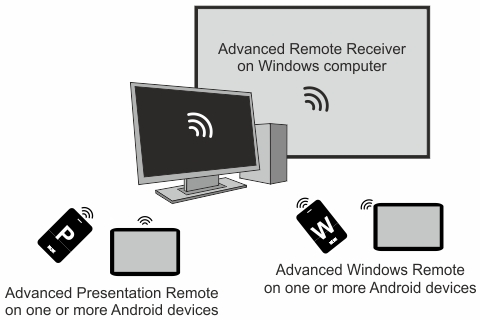 Advanced Presentation Remote and Advanced Windows Remote work by sending simple control messages to a windows host computer (e.g., press key "X", change slide, move mouse upwards, etc). On the Windows host computer, Advanced Remote Receiver receives the above messages, translates them to keyboard and mouse events and "injects" them into the windows event handling mechanism.
Advanced Presentation Remote and Advanced Windows Remote are free Android apps and can be downloaded to your mobile device from Google Play Store.
Advanced Remote Receiver is a shareware application that works on all Windows versions and can be downloaded from the links below.
Screenshots
Changelog
Check out the changelog below for the latest changes and stay tuned for the future updates!
Automatic installation
Download 100dof_advancedremotereceiver_setup.exe and save it in a temporary folder, or your desktop. Run 100dof_advancedremotereceiver_setup.exe to start the setup wizard. Select the desired installation settings, and click 'install' to start installation. You will be prompted to read/accept our licence agreement and also to provide installation options. You may accept the default settings or change them as you wish.
Manual installation (portable edition)
You can also install Advanced Remote Receiver by downloading the portable version (a zip file) and manually extracting it in a convenient place. The portable version is very convenient for presentations in that it can be used right from a memory stick.
Purchase software license of Advanced Remote Receiver
Advanced Remote Receiver is shareware and costs 10 Euro. You may test it out for no charge for as much time as you wish but if you really like it and you would like to to continue using it, you should buy a license.
To proceed buying a license, please click here
Disclaimer
The author, of this software accepts no responsibility for damages resulting from the use of this product and makes no warranty or representation, either express or implied, including but not limited to, any implied warranty of merchantability or fitness for a particular purpose. This software is provided "AS IS", and you, its user, assume all risks when using it.
By downloading Advanced Remote Receiver, you agree to Advanced Remote Receiver's Shareware License Agreement and terms of use described in therein.
Privacy Policy
This app does not communicate any information (personal or not) to us. Moreover, we do not collect any personal information. If you send us an email (e.g. for support or feedback) we will keep your email for future correspondence but we will not share any information contained in this email and we will not use your email address to spam you.
Contact and feedback
Please, feel free to send comments and feedback at the following email address:
haris[at]100dof[dot]com
Alternatively, you can use our contact form.